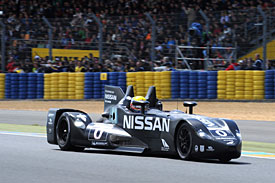 So the LeMans race for the Nissan Deltawing came to an abrupt end in the 7th hour when it was hit during a restart and sent into the wall at the Porsche curves by the #7 Toyota being driven by Kazuki Nakajima.
Well wishes and a speedy recovery to Anthony Davidson after his nasty crash in the Toyota hybrid prototype.
And congratulations to team Audi for their 1-2 sweep and for being the first in history to win the French race using energy-harvesting technology and four-wheel drive.