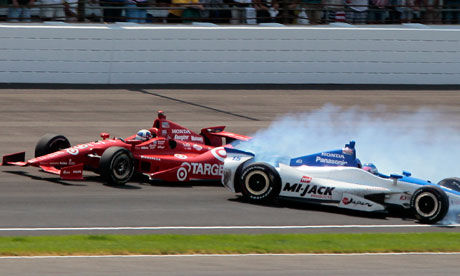 Well, not quite in the same spectacular fashion that Danny Sullivan did but..
Dario Franchitti picks up his third Indy 500 win after a close call with Takuma Sato when Sato dove in under Franchitti in the first turn of the last lap of the race went under the white line and lost it.  Sato not known for his patience on the track once again put himself in a place where he really had no business being. Franchitti's race didn't start out all that well when he was spun around in the pits during the first stop by EJ Viso, dropping him to the back of the field. A record 35 lead changes among 10 drivers made for an exciting race with no one running away from the field.  Josef Newgarden was quite the disappointment spending most of his race 1 lap down and eventually dropping out. James Hinchcliffe was among the leaders but faded away towards the end of the race and finished 6th. Unfortunately for Lotus they were black flagged and pulled from the race because they could not maintain safe speeds. The only scarey wreck came when AJ Foyts driver Mike Conway spun and collected Will Power sending Conway upside down along the wall.  Conway had run into his fuel man and was sent back out to not looses a lap with a broken front wing. Seriously AJ? you should know better then that. And the Andretti curse continues when Marco slammed the wall on lap 188, maybe next year.
So all in all  a great day for the Target Chip Ganassi team finishing 1-2 and TK Tony Kanaan finishing 3rd with a touching moment in victory lane when Dario dedicated the race to Dan Welden and Michael Wanser.